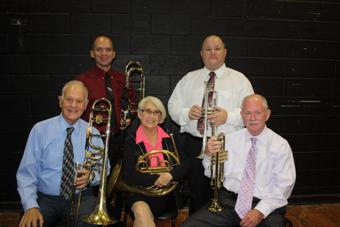 Photo by John Aird
The Eastern Virginia Brass is dedicated to performing the best of the brass repertoire for audiences. Formal recitals, informal family concerts comprise a mainstay of this ensemble's mission. Just as important are the educational concerts performed to the rave reviews of thousands of school age youngsters from Williamsburg to North Carolina.
The members of the Eastern Virginia Brass are
professional musicians and award-winning
music educators who perform and communicate
the best of the brass repertoire.
EASTERN VIRGINIA BRASS
Front: Robert Ford, trombone; Marlene Ford, horn; Wendell Banyay, trumpet
Back: David Newcomb, bass trombone; Lawrence Clemens, trumpet